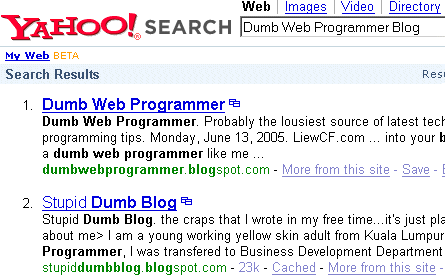 Wow!! I got indexed by Yahoo! in less than 24 hours!!
Can you believe that??!
I didn't even submit my sites anywhere. Funny thing is Blogger is by Google but I have not been indexed yet by Google. Did Google submit my site to Yahoo! That's a strange thing to do...
Well anyway I'm proud that I'm the no.1 in Yahoo! Search for
Dumb Web Programmer
How long will it last? I don't care. Took a snapshot to remember it forever :)